We are excited to announce that Marathon Tours is our exclusive tour operator for runners from North America!
Please click on the logo below for information about the 2023 Chubb Bermuda Triangle Challenge VIP Package at the Hamilton Princess, with special features to make your race weekend extra exciting! You can also reach them directly by emailing [email protected] or calling 617-242-7845.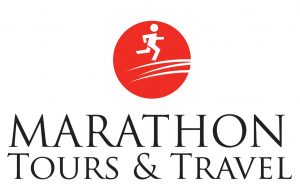 Did you know that Travel & Leisure Magazine recently voted Bermuda as one of the "Top 17 trips that Travel & Leisure editors can't wait to take as soon as we can travel again"?
Read the full article to find out why Editor-in-Chief Jacqueline Gifford is thinking about a trip to Bermuda. "When the time is right, we can't wait to return to this beautiful island, which feels like home," she said.
On behalf of the Organizing Committee of the Chubb Bermuda Triangle Challenge, welcome to Bermuda! Less than a two-hour flight from most major U.S. East Coast cities, Bermuda offers visitors a wide array of experiences within its 21 square miles. Bermuda's unique location in the Atlantic provides an extraordinarily pleasant climate that rarely sees extremes of either hot or cold.
While Bermuda may seem like one continuous landmass to visitors, but is actually made up of 181 islands, islets and rocks. Most of these are uninhabited, but eight of the larger ones are linked by bridges and one causeway that form a subtropical paradise with 75 miles of coastline that visitors can't resist.
Bermuda speaks to adventure seekers, explorers, romantics and originals. After all, the island is set apart by its location and way of life. Bermuda is where people, cultures, and one-of-a-kind mystique swirl together, connecting visitors to a place far from everyday life. Out here is where elegant British influences and sophistication blend seamlessly with a welcoming, laid-back rhythm. From pink sands and dazzling blue waters to brightly painted buildings, Bermuda is alive with colour. Out here is full of year-round adventure, whether it's horseback riding across pink sand beaches, diving beneath the waves to discover vibrant coral reefs and ancient shipwrecks or cycling through rugged natural beauty on the historical Railway Trail.
From museums and botanical gardens, to a variety of water activities, to dazzling caves and other hidden gems, Bermuda has something for everyone. Please visit the Bermuda's Tourism Authority's Things to Do in Bermuda to help you plan your trip in Bermuda before and after you participate in the Chubb Bermuda Triangle Challenge.
We hope to see you in January! Have a Bermuda-ful day!