We're excited to announce that Marathon Tours is our exclusive tour operator for runners from North America!
Please click on the logo below for information about the 2024 Chubb Bermuda Triangle Challenge VIP Package at the Hamilton Princess, with special features to make your race weekend extra exciting, including deluxe accommodations at the Fairmont Hamilton Princess & Beach Club (a rate that includes breakfast each morning) and a special welcome reception on Thursday night! You can also reach them directly by emailing [email protected] or calling 617-242-7845.
UK and European residents can book through the MTT UK Office booking link.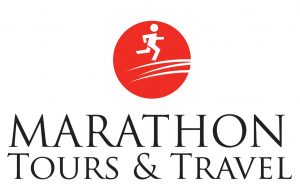 Travel and Leisure Magazine recently featured the island in "How to Spend the Perfect Three-day Weekend in Bermuda"
"..the island of pink sand beaches, Dark 'n Stormys, and perfectly clear waters is a short two-hour flight from most East Coast airports (a 90-minute non-stop flight from NYC). That makes it easy to trade that generic three-day weekend road trip for a carefree, almost car-less vacation in Bermuda — where visitors explore the island by scooter, bus, taxi, or an electric car available to rent."
They also featured us on their list of "50 Best Places in the World to Visit in 2023", noting features like "the new $400-million terminal with automated immigration gates and pre-clearance for U.S.-bound passengers," as well as "Cambridge Beaches Resort & Spa's [a Chubb Bermuda Triangle Challenge partner hotel's] top-to-bottom renovation, adding villas and a Bermudian outpost of Sunken Harbor Club, the tropical cocktail bar above Brooklyn, New York's wildly popular steakhouse Gage & Tollner."
Hear what some other visitors to Bermuda had to say:
Leslie Harvey, mom of two, visited (solo!) with her husband, Thomas, in August, 2022 and published a "First Timer's Guide to Bermuda"
In April, 2022, travel-blogging couple "Bobo and Chichi"(Scott and Megan) published "15 Things to Know Before Visiting Bermuda (Bermuda Travel Tips)" after their visit to the island.
Michael and Matt, the "travel obsessed husbands," visited Bermuda in February, 2022 and also published a "Bermuda Travel Guide for First-Time Visitors" (be sure to check out their dining recommendations).
On behalf of the Organizing Committee of the Chubb Bermuda Triangle Challenge, welcome to Bermuda! Less than a two-hour flight from most major U.S. East Coast cities, Bermuda offers visitors a wide array of experiences within its 21 square miles. Bermuda's unique location in the northwest Atlantic Ocean provides an extraordinarily pleasant climate that rarely sees extremes of either hot or cold.
While Bermuda may seem like one continuous landmass to visitors, it is actually made up of 181 islands, islets and rocks. Most of these are uninhabited, but eight of the larger ones are linked by bridges and one causeway to form a subtropical paradise with 75 miles of coastline.
Bermuda speaks to adventure seekers, explorers, romantics, and creatives. After all, the island is set apart by its location and way of life. Bermuda is where people, cultures, and one-of-a-kind mystique swirl together, connecting visitors to a place far from everyday life. Out here is where European and Caribbean influences blend seamlessly to create a welcoming, laid-back rhythm.
From lush green vegetation and dazzling blue waters to brightly painted buildings, Bermuda is alive with color. The island is full of year-round adventure, whether it's horseback riding across pink sand beaches, diving beneath the waves to discover vibrant coral reefs and ancient shipwrecks, or cycling through rugged natural beauty on the historical Bermuda Railway Trail.
From museums and botanical gardens, to a variety of water activities, to dazzling caves and other hidden gems, Bermuda has something for everyone. Please visit the Bermuda Tourism Authority's Things to Do in Bermuda to help you plan your trip in Bermuda before and after you participate in the Chubb Bermuda Triangle Challenge.
We look forward to seeing you in January!