Friday, January, 13, 2023
7:00pm
Start/Finish: Front Street, Hamilton, Bermuda
The spotlight is on you at the start of the Chubb Bermuda Triangle Challenge during 'Happy Hour' with the Butterfield Mile.  The only street races held at night in Bermuda, this event is sure to set the pace for the rest of your weekend!
The Butterfield Mile will see the Chubb Bermuda Triangle Challenge participants share the stage as they run along Front Street in the city of Hamilton to the cheers and encouragement of the island's residents. Participants in the Butterfield Mile will run in waves, which will be indicated on your race bib.
Be sure to get there early, as the evening begins at 6:30 with a performance from the Royal Bermuda Regiment Band in full regalia! And plan to stick around after your run to watch elites from Bermuda and around the world compete for cash prizes, including $10,000 for the first male runner to break 4:00 minutes or the first female runner to break 4:25.
If you've worked up an appetite, make sure to grab dinner at one of the many dining establishments that line Front Street – many of which offer balcony seating that will give you front row seats while local adults and school-aged athletes compete in their heats.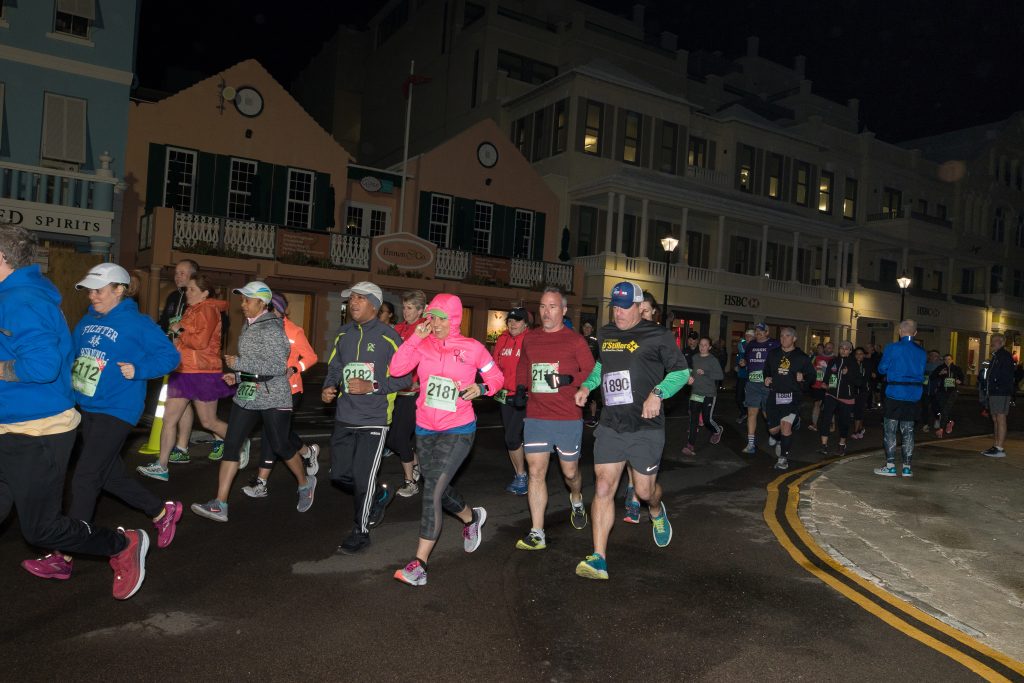 Course Description
For Chubb Bermuda Triangle Challenge runners, the Butterfield Mile begins outside the Number One Car Park on Front Street in Hamilton. Runners proceed west down Front Street, beyond the iconic bird cage for 1000m, and then loop back to head east until the turning point near the intersection of Spurling Hill and Front Street (the Longtail statues). Heading back west, runners will finish in front of the flag pole.
Elite runners, youth runners, and local qualifiers will follow the traditional Front Street Mile Course with the second turning point around the longtail statue.
PLEASE NOTE: Half and Full Bermuda Triangle Challenge participants are automatically entered into the Butterfield Mile, which is the first race in the "3 races in 3 days" series.
Invited runners will have competed for an invitation to race the Butterfield Mile or will have raced internationally. If you are an elite runner, please contact us at [email protected] for more information.
Local adult runners and school-aged runners (primary, middle, and senior school athletes) MUST qualify for the Butterfield Mile by running in the Butterfield Mile Trials, which will take place at 6pm on Friday, December 9, 2022 at the Flora Duffy Stadium. Signup at www.runsignup.com/butterfieldmile to participate in the Butterfield Mile Trials. Signup ends at 6pm on Thursday, December 8, 2022. For questions about the Butterfield Mile Trials, please contact Dr. Freddie Evans via email [email protected] or telephone 441-735-0980.
Time Limits
There are no time limits for this event. Chubb Bermuda Triangle Challenge participants are encouraged to run or walk the Butterfield Mile at a pace that is comfortable for their fitness level. This event is meant to be FUN!
Awards
Awards for the Butterfield Mile will be presented immediately following each race in the following categories for both males & females: 1st through 3rd for Elite, Primary School, Middle School, Senior School, Open (18-39), Masters (40-59), Senior Masters (60+)
Cash prize awards (overall, for both male and female races, no age group):
1st place: $1500
2nd place: $500
3rd place: $250
*There are no awards presented for the Chubb Bermuda Triangle Challenge section of the Butterfield Mile. Times for the Butterfield Mile will be recorded and counted toward totals for Chubb Half and Full Bermuda Triangle Challenge overall male/female and age group award winners.
Event Records
Elite Mile
Kenia Sinclair – 4:33:61 (Jamaica), 2011
Leonard Mucheru – 4:02:60 (Kenya), 2002
Local Records
Adult Female
18-39: Ashley Couper Estwanik – 4:57:46, 2003
40+: Victoria Fiddick – 5:30:10, 2009
Adult Male
18-39: Lamont Marshall – 4:23:07, 2006
40+: Gary Raynor – 4:32:70, 2010
Senior School Girls
Izzy Dutranoit, Suffield Academy (USA) – 5:14, 2019
Senior School Boys
Tyler Butterfield, Saltus – 4:27:3, 1999
Middle School Girls
Ashley Irby, Saltus – 5:23:63, 2015
Middle School Boys
Dage Minors, Clearwater – 5:01:90, 2009
Primary School Girls
Ziza Russell, Overseas School – 5:39, 2019
Primary School Boys
Spencer Butterfield, Saltus – 5:14.70, 1993