Saturday, January, 13, 2024
9:00am
Start/Finish: National Sports Centre, North Field
65 Roberts Avenue, Prospect, Devonshire
One of the most popular (and hilly) races on the island, and the second race in the Half and Full Chubb Bermuda Triangle Challenge events, the BF&M 10k Run/Walk will take you on a scenic course filled with rolling hills, lush foliage, and beautiful vistas. Bask in the excitement of fellow runners and spectators as you complete an oval-shaped loop that starts and finishes at the National Sports Centre, offering views of historic Flatts Village and the North Atlantic Ocean along the way.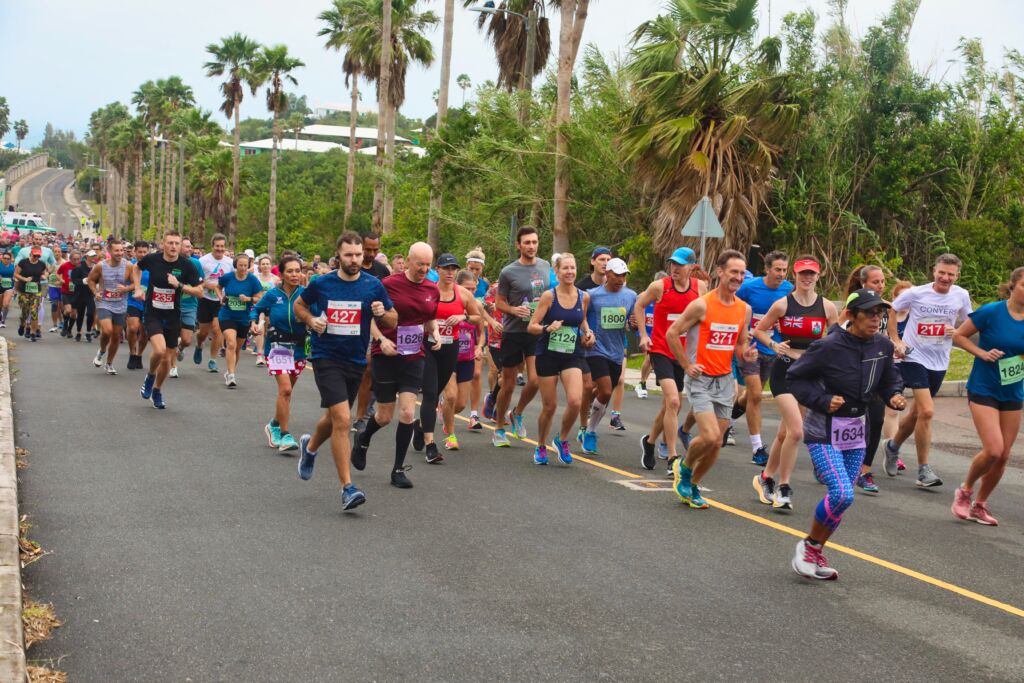 Amenities
All participants in the BF&M 10k Run/Walk will receive a 2024 Chubb Bermuda Triangle Challenge technical t-shirt (unisex sizes only), a custom 2024 BF&M 10k Finisher's Medal, and a swag bag.
In addition, all are welcome to attend the FREE post-race Finish Festival on the North Field featuring music, Bermuda's famous Gombey dancers, locally brewed beer courtesy of Bermuda Craft Brewing, and complimentary rum-based cocktails courtesy of Goslings. Kick back on the grass while you enjoy Nature Valley granola bars, an Oscar Mayer hotdog, and Haagen Dazs ice cream from Butterfield & Vallis.
Please note that Full/Half Bermuda Triangle Challenge participants and people that register for more than one race (e.g., the Butterfield Mile Open Division or the BF&M 10k and the PwC Bermuda Half Marathon) will only receive one shirt.
Course Description
The BF&M 10k course begins and ends at the North Field of Bermuda's National Sports Centre. Runners will head south on Montpelier Road to Middle Road, take a left and continue east on Middle Road into Flatts Village. Runners will then turn onto North Shore Road and follow until they reach the Barkers Hill roundabout, then head up Palmetto Hill. Runners will follow Palmetto Road west, take a left onto Frog Lane and follow Frog Lane back to the finish at the North Field.
"We absolutely loved this race! My husband and I participated and we had a lot of fun. Thank you so much!!"
"The race was well-organized and easy to navigate, thanks to the volunteers, and the course was filled with supportive residents."
"The atmosphere, the organization, all the food and drinks after the race, but most of all I love my 10k medal!"
Time & Age Limits
Please note you must be at least 12 years of age on Saturday, January 13, 2024 to participate in this race. There is a 2:30 time limit on the BF&M 10k Run/Walk.
In order to comply with the agreement with the Government of Bermuda, streets along the route will be reopened to vehicular traffic on a set schedule. Runners are advised to stay on the LEFT side of the road.
Event Records
Old Course
Grete Waitz – 31:41 (Norway), 1982
Geoff Smith – 28:14 (Great Britain), 1982
New Course
Eilish McColgan – 33:28 (UK), 2020
Patrick Casey – 31:03 (USA), 2020
Awards
BF&M 10k Run cash prizes will be presented on the North Field at 11:00am on Saturday, January 13 in the following categories for overall male & female runners:
First place: $500
Second place: $250
Third place: $100
There will be no cash awards for age group winners, or for the non-competitive 10k walk. However, age group commemorative awards (plaques) will be presented for both male and female runners in the following categories: 12-15, 16-19, 20-29, 30-39, 40-49, 50-59, 60-69, 70+